Photo of street art transformation
Introduction
When most people think of transportation infrastructure, they envision drab, forgettable stretches of asphalt and concrete that get you where you need to go but are not destinations in their own right. Furthermore, many safety features, such as sidewalks and frequent crosswalks, are often absent and/or uncomfortable to use in many communities due to intentionally uncomfortable architecture. The Asphalt Art Initiative was designed to shift this perspective, using color and creativity to breathe new life into city streets, and show the power of low-cost strategies that help create safer, more welcoming streets and public spaces.
The challenge
There is a growing need throughout the country to make streets safer, especially as the number of people struck and killed while walking and rolling continues to rise. Many innovative cities have used asphalt art treatments at intersections and pedestrian crossings to improve the quality of life for all roadway users. These projects improve safety by increasing the visibility of pedestrian spaces and crosswalks, encouraging walkability, and signaling to drivers that they should slow down and be more alert for pedestrians and cyclists, the most vulnerable users of the road.
However, despite broad support, arts-driven transportation projects have encountered roadblocks, including regulatory hurdles in the United States and elsewhere, in part due to a lack of published literature on the subject.
The project
The Asphalt Art Safety Study addresses this need by providing a quantitative assessment of multiple asphalt art projects to determine their impact on roadway safety. To assess the impact of the sites, this study compares historical crash rates and real-time behavior of motorists and pedestrians at 17 asphalt art sites before and after the projects were installed.
The results
The study found intersections with asphalt art saw improved safety benefits. Analyzing crash history at 17 asphalt art sites across the country that have been in place for at least two years found a dramatic reduction in motor vehicle crash rates after the projects were installed, including a 50% drop in crashes involving pedestrians or cyclists and a 37% drop in crashes leading to injuries.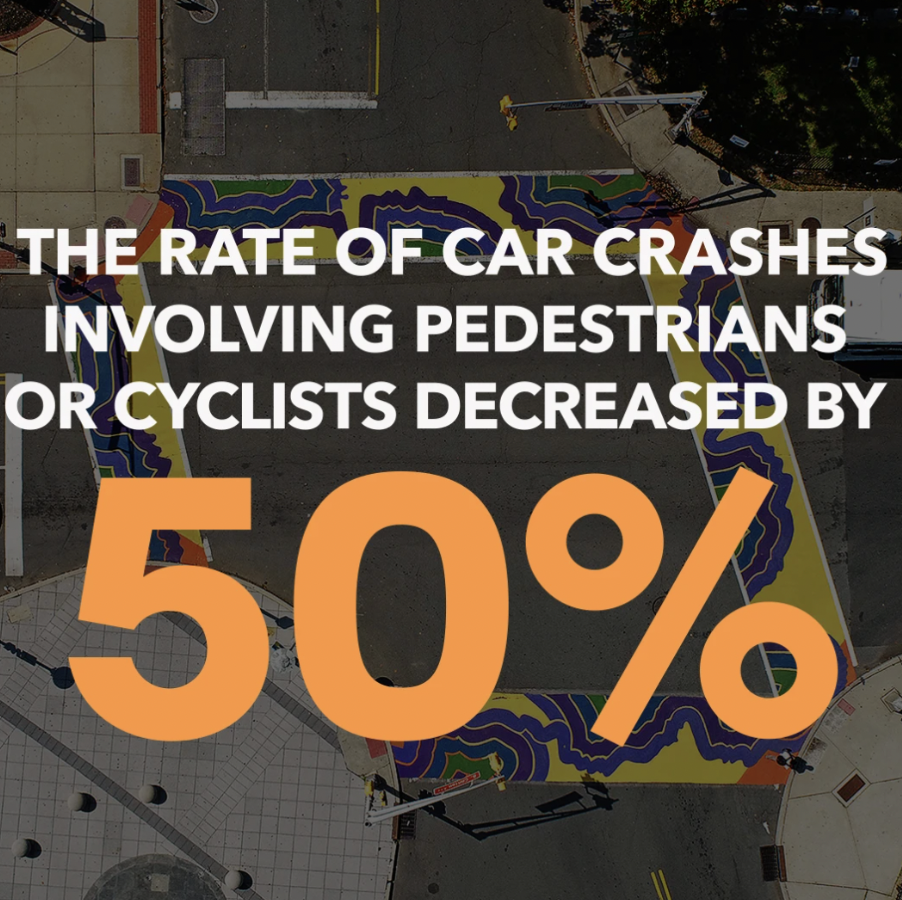 The study also examined real-time driver and pedestrian behavior through video footage of the installations and found a 27% increase in the rate of drivers yielding to pedestrians with the right-of-way and a 25% drop in potentially dangerous conflicts between drivers and pedestrians.