Baltimore-based artist Graham Coreil-Allen has been at the forefront of using art to make streets safer for all. With training in visual art and architecture, Coreil-Allen has integrated his artistic practice with his "interest in activism and advocacy, especially around creating healthy neighborhoods ultimately that are uplifting and accessible for all people, with a particular focus on rebuilding our cities and suburbs to accommodate folks who do not drive cars."
The challenge
Coreil-Allen's work has increasingly taken the form of public space design and exploration: Tinges Commons created a community garden and collaborative art space in a vacant north-central Baltimore lot, while New Public Sites walking tours creatively "explore the history, design and uses of public spaces," inviting participants "to practice 'radical pedestrianism'—traveling by foot through infinite sites of freedom while testing the limits of and redefining public space." Coreil-Allen's first experience with street safety came in the form of a series of hopscotch crosswalks, designed to create an artistic and fun experience for pedestrians in downtown Baltimore.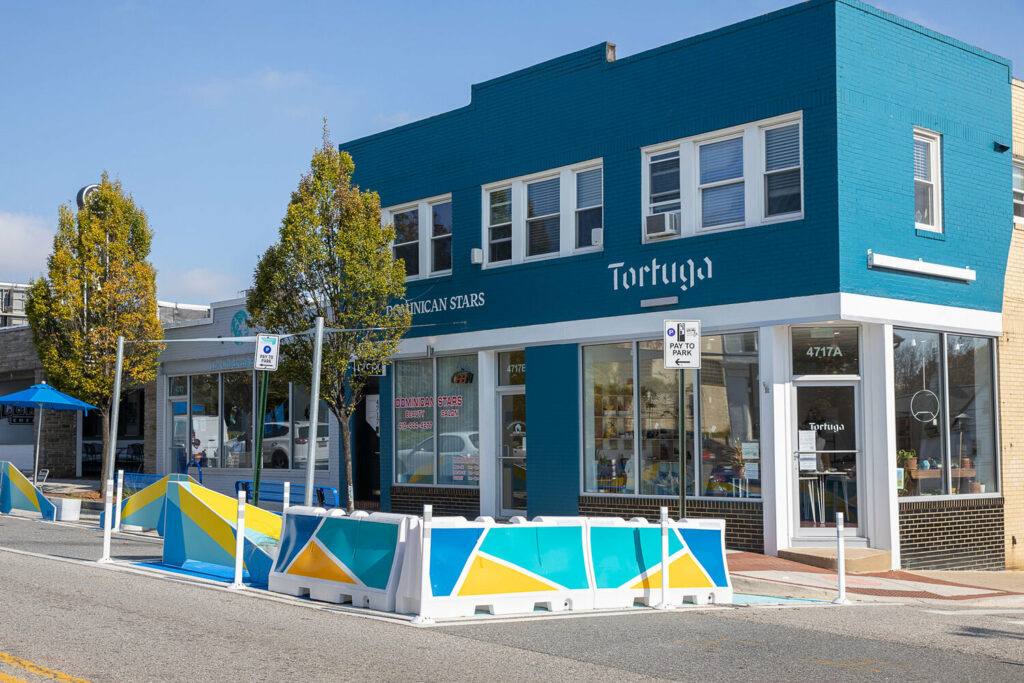 Coreil-Allen's curiosity helped him overcome the steep learning curve associated with road design and civil engineering. "I remember years ago I was wondering what's up with all these different colorful markings on the ground that I called the mystic glyphs—these kinds of urban utility graffiti of unknown origin. And then I looked into it and eventually I kind of memorized it all: orange is telecommunications, red is electrical, blue is water, white is just survey markings, and so on."
The projects
Reverberations Crosswalks
Coreil-Allen created another popular set of crosswalks in Baltimore's Charles Village neighborhood. Intended to draw attention to the students crossing the busy one-way street on their way to school, the Reverberations crosswalks were designed in collaboration with students at Margaret Brent Elementary/Middle School and painted by neighbors, students, and passersby. Incorporating bright colors, new signage, bump-outs, flex posts, and bicycle infrastructure, the project has slowed traffic and created a new neighborhood landmark.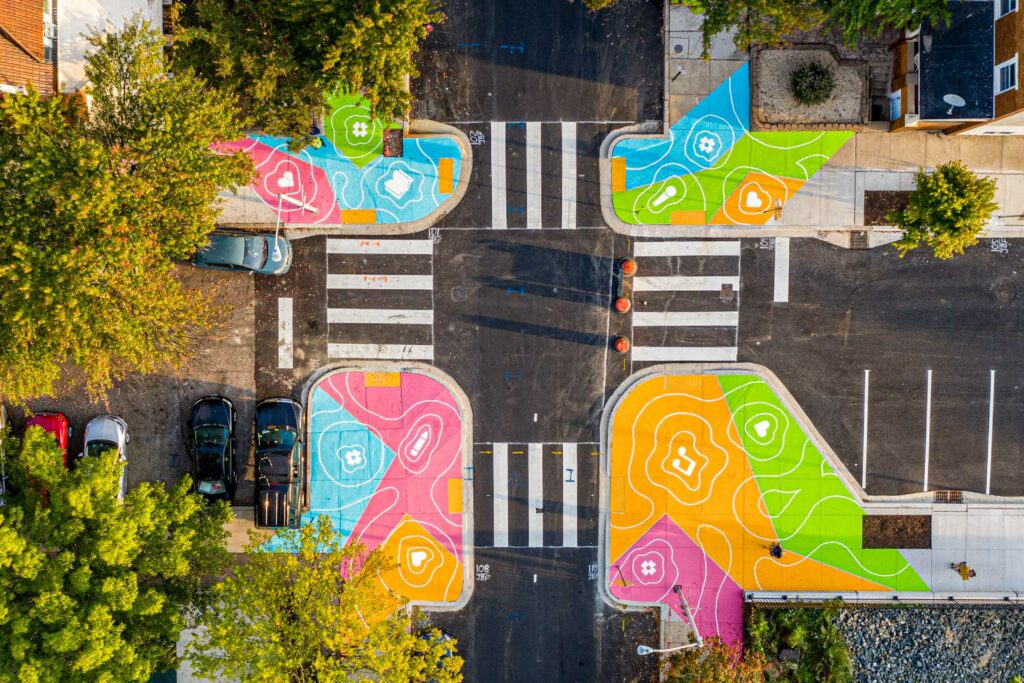 Design for Distancing
Now co-chairing Mayor Brandon Scott's transition team's Arts and Culture committee, Coreil-Allen has shifted his work to creating safe, accessible spaces for the COVID moment. As part of the Design for Distancing initiative, he created space for outdoor dining and seating, a mid-block crosswalk, and shade structures.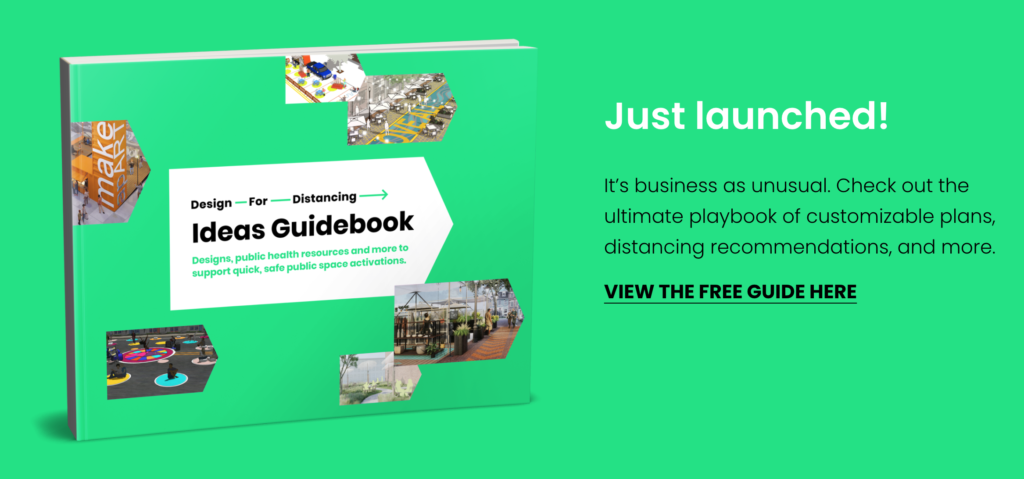 Using a community-based design process, Coreil-Allen and his collaborators "first started off with meeting with all the merchants along the target blocks…and everything they said really drove the design." A hair salon wanted space for customers to safely wait for appointments, so seating was added outside their storefront. Another business wanted to be able to host outdoor events, so a locking cabinet that doubles as a bench was created and filled with games and other equipment. Others pointed to concerns about pedestrian safety, so the team embellished existing crosswalks with bright paint and artistic designs, and built colorful ADA-compliant ramps for wheelchairs and strollers.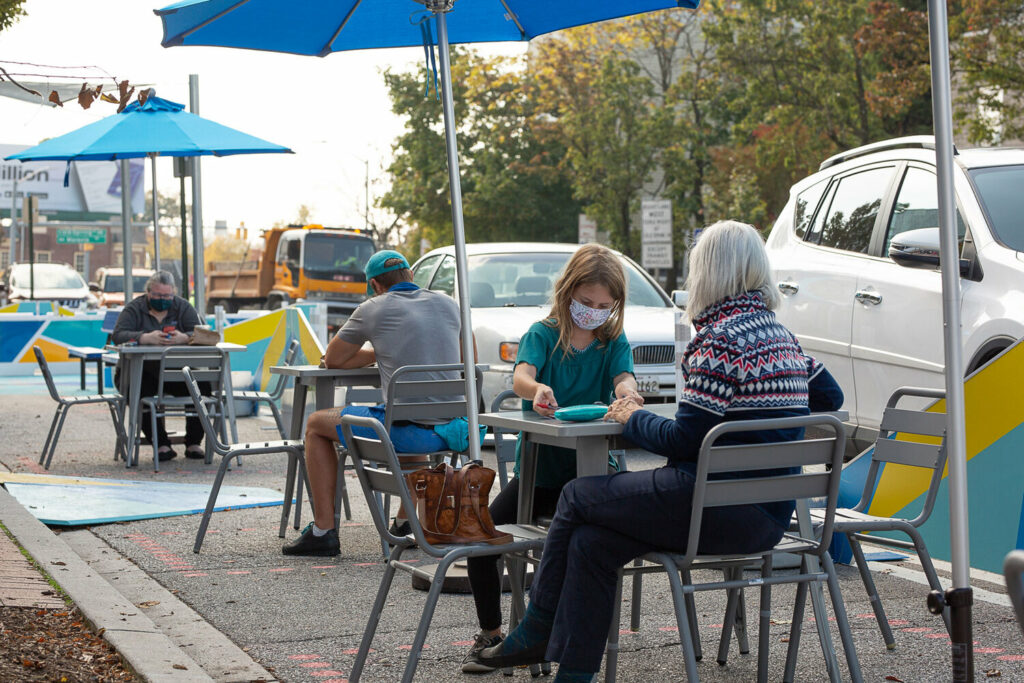 Key partners: Baltimore City Department of Transportation
This text is adapted from a piece that originally appeared in FORWARD Issue #2: Transportation, and has been reposted here with permission from Forecast Public Art. Photos courtesy Graham Coreil-Allen, grahamprojects.com.