The benefits of working with artists
Artists bring a unique perspective and set of skills to projects across all phases; they're uniquely positioned to help create projects that better reflect their communities, avoid the "one size fits all" approach of many infrastructure projects, serve community needs beyond transportation, and help make people feel welcome.
Broadly speaking, arts and culture contribute to the unique identity of a city. Art exerts an emotional pull that can help attract and keep talented workers. They're part of making places where companies and investors want to locate. Engaging the public through the arts and culture helps produce better projects, promote social equity, and is part of building better places that are loved and cared for by a more diverse community of people.
Collaborative by nature, artists are frequently deeply enmeshed in their community's culture, and are therefore well suited to lead engagement efforts. Working with artists to engage the public also builds trust and valuable relationships between local government, public agencies, community groups and the public. That engagement builds a vital bedrock of trust that can also build support for future transportation investments and can be the difference between success and failure.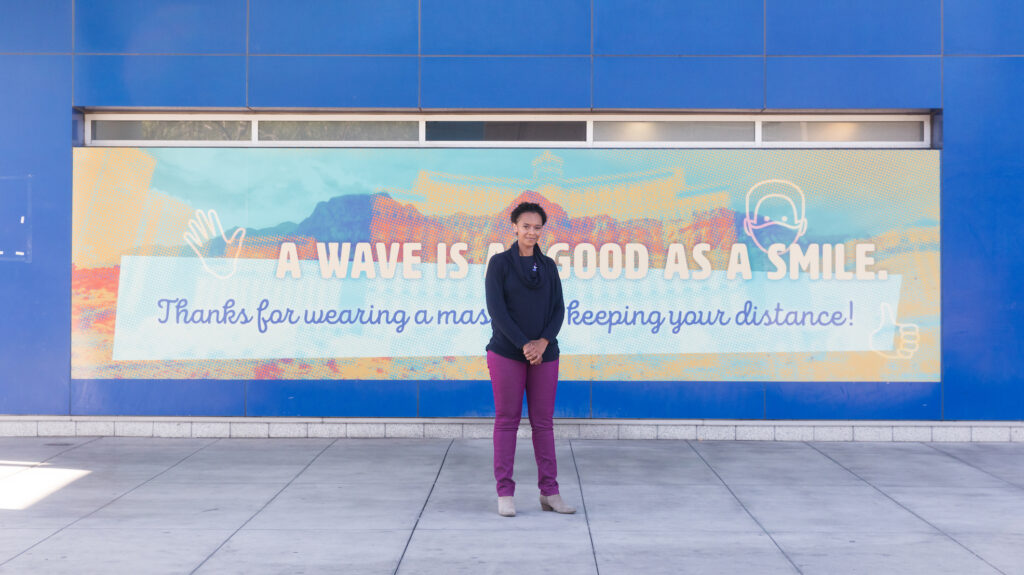 The benefits of building communities with arts and culture
Anyone who has had to build support for a large-scale public works project knows how challenging it is to balance the goals for the project, the vision of those behind the scenes, and the aspirations of the community. A dash of arts, culture and creativity can ease tension in this process and unite diverse stakeholders around shared values, common goals and community treasures. "It's like cooking," Jack Becker, former executive director of Forecast Public Art, told us in an interview. "You have to throw in some flavor to get a good outcome."
Artists function as the culture bearers of their communities; they know the stories, the histories, the important buildings, parks, businesses, and people that need to be consulted and considered during projects. This knowledge makes artists crucial allies in building support for projects, raising the profiles of unheard voices, and managing change with an eye towards driving equity.
A creative placemaking approach can bring a range of potential benefits: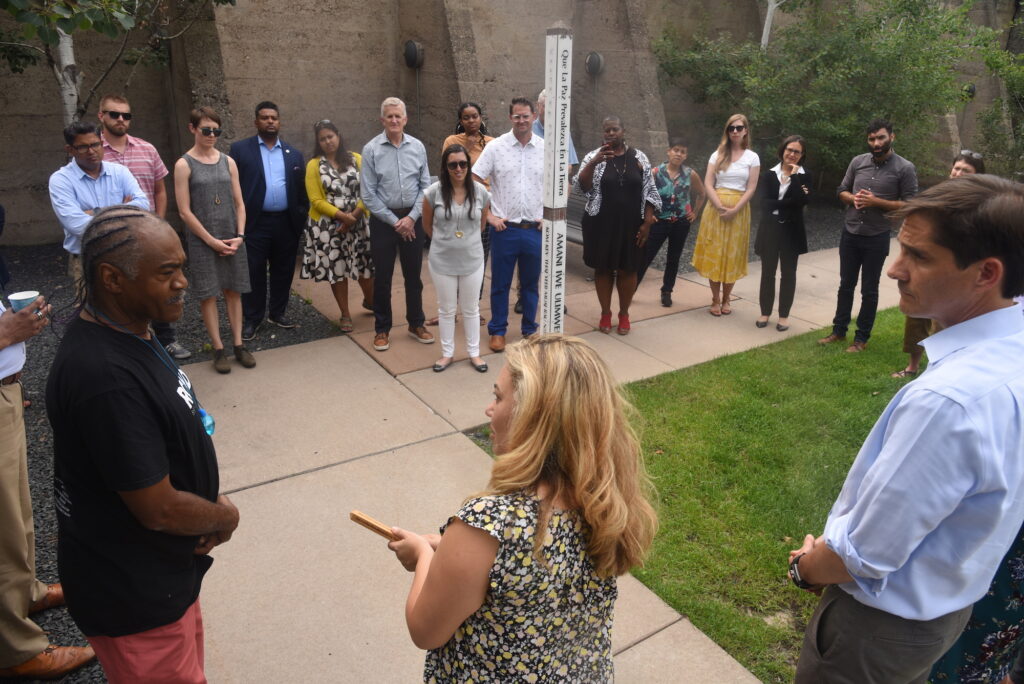 Better projects and better places.
Engaging the public through the arts and culture helps produce better projects and is part of building better places that are loved and cared for by a wider community of people.
Engages traditionally underserved communities.
Most traditional community engagement practices still lack the ability to mobilize community members to build sufficient support for healthy, equitable transportation projects at a large scale. Creative placemaking has proven to have the power to energize underserved populations with a sense of independence and ownership that traditional methods sometimes fail to achieve.
Greater visibility for the assets that make your community special.
The final product of a creative placemaking process will be unique to your community. Whether it is a community-led art installation, a day-long street festival, or a list of a community's self-identified favorite places, creative placemaking allows communities to write their own perspectives and histories and establish their own unique legacies.
A planning process illuminated and clarified through art.
Transportation planning is difficult enough to understand, and rarely the forum of robust dialogue and constructive debate among community members. Too often, people are unintentionally confused, overwhelmed by or left out of planning decisions. Art is a more relatable and meaningful medium to discuss planning, helping to foster rich dialogue about the community's concerns, ideas and support for transportation and/or development projects.
Leaves a legacy of active community participation.
Successful creative placemaking approaches have proven to foment ongoing dialogue about community and transportation plans. While many people with limited time and means may be hard-pressed to attend planning meetings, creative placemaking is a flexible tool that gives people the freedom to offer input in their own words and on their own time.
Breaks down barriers using creative expression.
Art is a catalytic agent for people to tap into and express their concerns and ideas to improve each of these factors by securing a transportation system and development pattern that works for them. Art can also ease tensions between people, which can be an important aid in addressing the institutional inequities of the transportation system.
Brings fun into hard work.
The arts inspire us. Creative placemaking is inviting and exciting, spurring the necessary cognitive abilities to tackle hard challenges that require collaborative and focused problem-solving. As an effect, creative placemaking may strengthen the social bonds and group cohesion needed to tackle complex problems – like public transportation, multi-use development and complete streets – collaboratively. Further, creative placemaking empowers people to create new associations and think about a challenge in a new way, eliciting perspectives and thoughts they might not have arrived at without the power of social practice and socially created art.
What exactly do artists do to bring about these benefits?
One of the questions we hear most often is "what will an artist's role be in this transportation project?" Artistic process is often unclear to those who have never collaborated with artists, especially within the complex and lengthy timelines of transportation projects. After researching hundreds of case studies and speaking with artists and transportation professionals around the country, we've found that artists typically help solve transportation challenges in eight ways:
Generating creative solutions for entrenched transportation problems. Arts and culture can help develop better projects that attract greater community support by imagining bold transportation solutions that are unconstrained by traditional processes.
Making streets safer for all users. Arts and culture can make streets safer for pedestrians and cyclists by using creative methods to help transportation professionals empathize with all users.
Organizing transportation advocates. Arts and culture can help equip communities to organize and advocate for more equitably distributed transportation investments.
Engaging multiple stakeholders for an inclusive process. Arts and culture can help shepherd transportation projects through the community input process more quickly and smoothly by facilitating meaningful participation early and often in the planning process.
Fostering local ownership. Arts and culture can help accomplish local goals including improving health, encouraging walking and biking, or increasing transit ridership by incorporating community-sourced artistic and design elements into transportation projects to foster local stewardship and use.
Alleviating the disruptive effects of construction. Arts and culture can help overcome the disruption of construction and mitigate the impact on businesses, residents, and visitors by using artistic interventions to create a more accessible and inviting environment.
Healing wounds and divisions. Arts and culture can help remedy the divisions created by urban highways and other detrimental transportation infrastructure by physically and culturally reconnecting communities.
Mitigating the impacts of the COVID-19 pandemic. Arts and culture can help normalize and communicate rules related to masking and social distancing, and create a welcoming environment to welcome riders back to transit.
The case studies featured in this website are organized under these eight categories; the first seven were originally featured in our Arts, Culture, and Transportation Field Scan. This guide adds an eighth approach focused on how arts can help respond to COVID-19.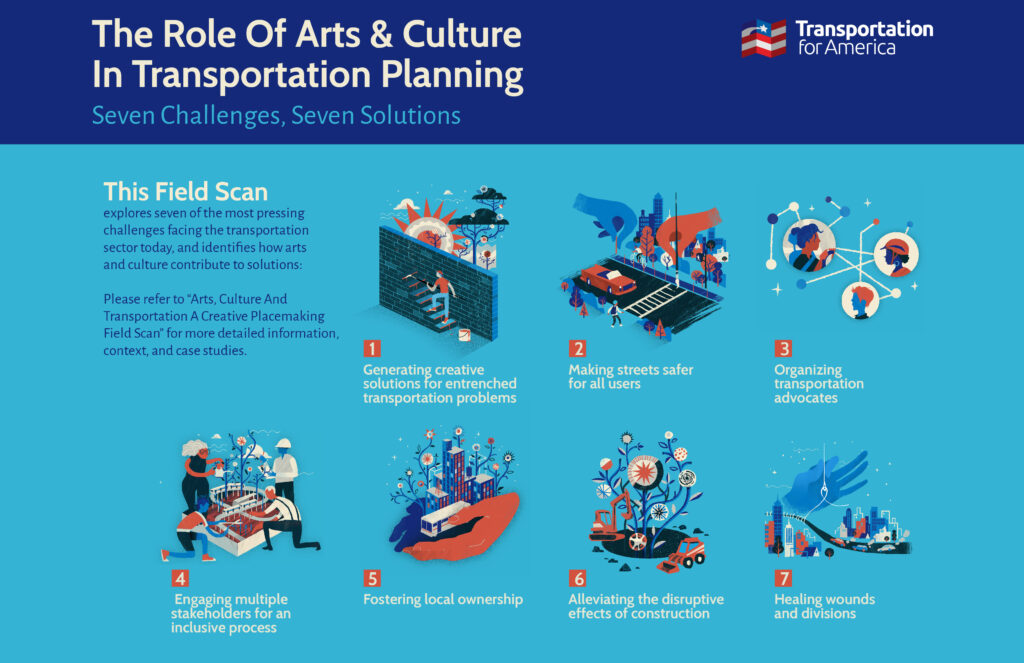 Dive into the eight approaches

---
Read the previous section:
Read the next section: