In the City Heights neighborhood of San Diego, community partners helped improve the transit user experience, cultivated local ownership of a transit line, and improved a station area with community participation and creativity.
The challenge
City Heights neighborhood in central San Diego, California is notable as home to a number of refugees and immigrant communities, with significant numbers of Vietnamese, Somali, Cambodian, Laotian, and Latino residents. In 2015, The San Diego Association of Governments (SANDAG) and the Metropolitan Transit Service (MTS) opened the $45 million Mid City Rapid 215 bus rapid transit line with five stations in the City Heights neighborhood. But while the new bus service is a valuable new transportation option for getting around, the journeys to and from and the bus stops are still far too dangerous. In a harrowing reality, people driving cars struck 114 kids over a four-year period while walking or biking within ¼-mile of a City Heights school.
When SANDAG made plans for the line, there wasn't a meaningful or robust community engagement process. The engineering/design process did not have a single public workshop and residents and advocates were not invited to participate, according to Randy Van Vleck, Active Transportation Manager at the City Heights Community Development Corporation (City Heights CDC).
City Heights' resident transit advocates and community leaders felt like the project was shoved down their throats. While there is a high demand for transit improvements in City Heights, that doesn't mean the project will necessarily be embraced if there is poor community engagement that excludes resident input from the decision making process. The lack of engagement also kept the lines' planners from hearing the community's deep concerns about safety around the stations.
When the new line's expansion came through the neighborhood, it arrived quickly and with little notice. SANDAG constructed a state of the art bus station at Fairmount and 43rd, but its generic design felt to many local advocates like a lost opportunity at what is an important gateway to the area for local businesses. And while the line has seen strong ridership, local resentment remains about the impersonal design of the station and remaining barriers for residents to get to and from the station safely. And advocates certainly remembered a fight that was lost in the late 20th century against SANDAG and Caltrans to prevent the razing of seven blocks of homes to make room for the new I-15 freeway extension, completed in 2001.
To some members of the City Heights community, improvements that would reflect their goals seemed destined for a tomorrow that may never come.
The project
To help change that, in the spring of 2015, the City Heights CDC and local transportation advocacy nonprofit Circulate San Diego worked with local partners to organize events to bring positive attention and local energy to their desire for safer streets. They started by getting ideas from the community. At their first event, held in March 2015, over 40 City Heights residents convened to learn about the project, discuss community assets and take a walking tour of the area to get ideas for improvements that would improve safety and access on foot, bicycle, wheelchair, scooter and other additions that would generally make the streetscape more enjoyable for people traveling on foot. Over 200 ideas were recorded, from streetscape improvements to pocket parks.
From there, in May 2015, City Heights CDC hired local artist Vicki Leon to help lead a single-day staging event so that attendees could try out some of these ideas at a pop-up placemaking event called ACT (Art+Community+Transit): The Boulevard. Leon planned a series of installations, some of which "piloted" potential improvements, while local businesses and organizations lent their buildings to serve as participatory art galleries to create an additional draw.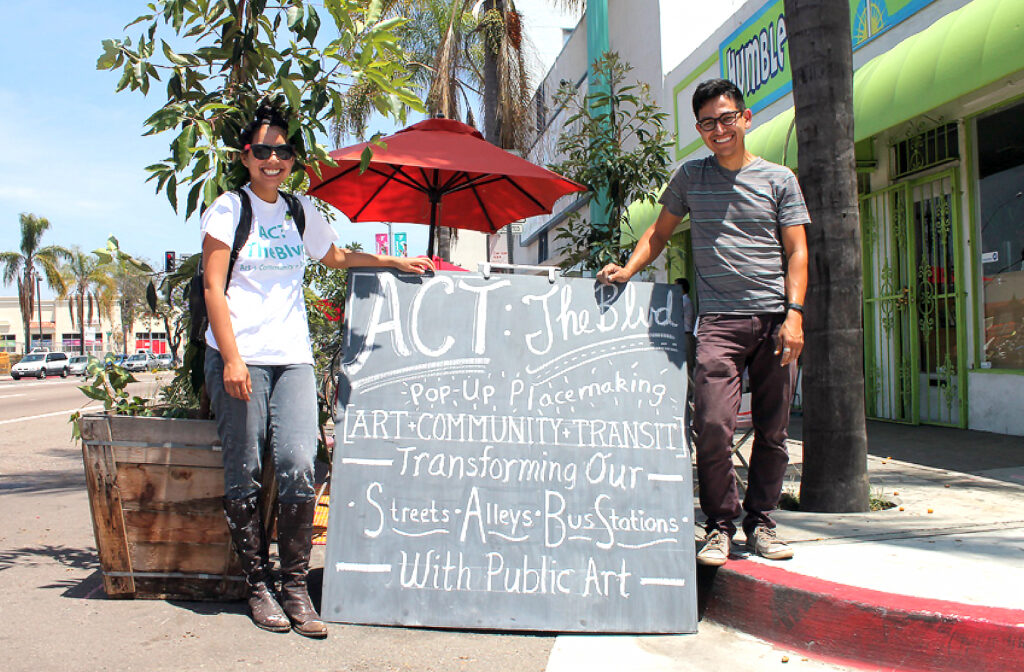 The event drew over 300 people and "inspired attendees to creatively think about improvements to the area."  Leon worked to determine how much it will cost to get some of the installations, such as shade and seating, installed permanently. Feedback from the event feeds into the development of a community-led vision for the Mid-City Rapid station at Fairmont and 43rd. And now, the Neighborhood Ethnic Business Cluster is teaming up with the newly formed Fairmount Arts Collaborative to do a series of projects to transform Fairmont Avenue into an arts corridor.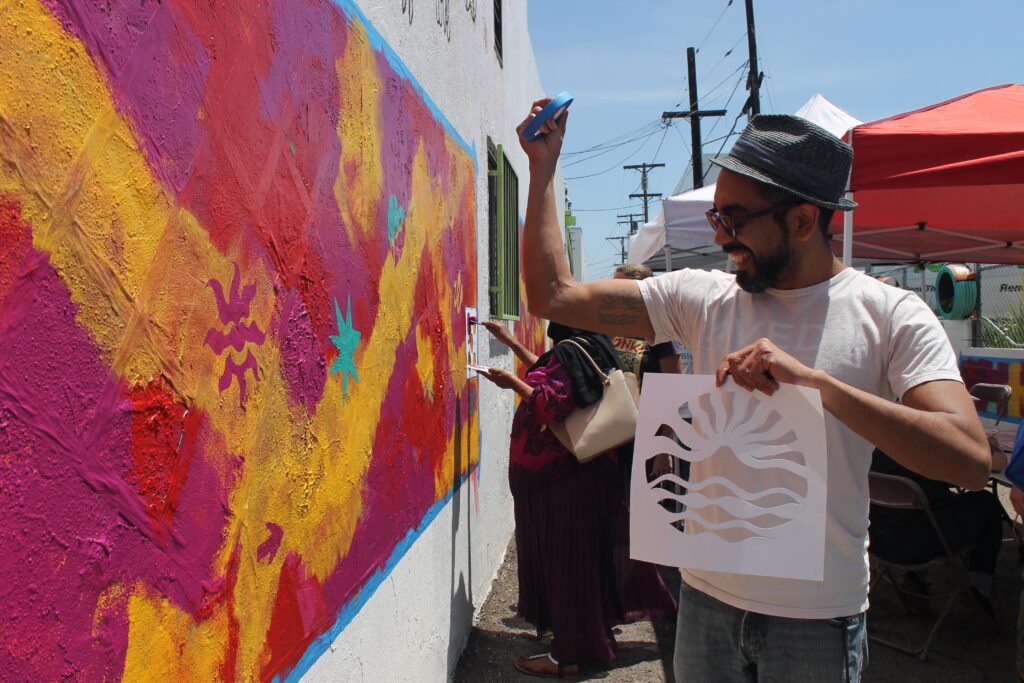 The results
While the community still must fundraise to make more of these installations permanent, City Heights CDC and Circulate San Diego are calling the project a resounding success in their goal to promote community ownership of the station. "It allowed people to directly interact with ideas for the transit station area. It was more effective and engaging than a traditional public meeting," says Randy.
Most of the event's temporary installations occurred on private property, and local government did not play a formal role, though representatives from the city and SANDAG did attend the event. Conspicuously absent, representatives from the transit agency did not attend. Noting that local organizations and residents most often get information from the local transit operator in the form of agendas that are not user friendly or advertised on an e-mail list, he added, "Unfortunately, they're not really programmed to build relationships and trust," Randy told us.
But the hope of City Heights is that events like ACT: The Boulevard can inspire different thinking about what a public meeting can look like. "We are a place-based group that builds community engagement into everything that happens. It's not just about the projects, it's about how it feels to engage, and create that safe and comfortable space for our residents to participate in decision making processes," says Randy. "We want to change that culture and have the agencies embrace public participation."
Key partners: City Heights CDC, Circulate San Diego, Vicki Leon, Transportation for America