Introduction to creative placemaking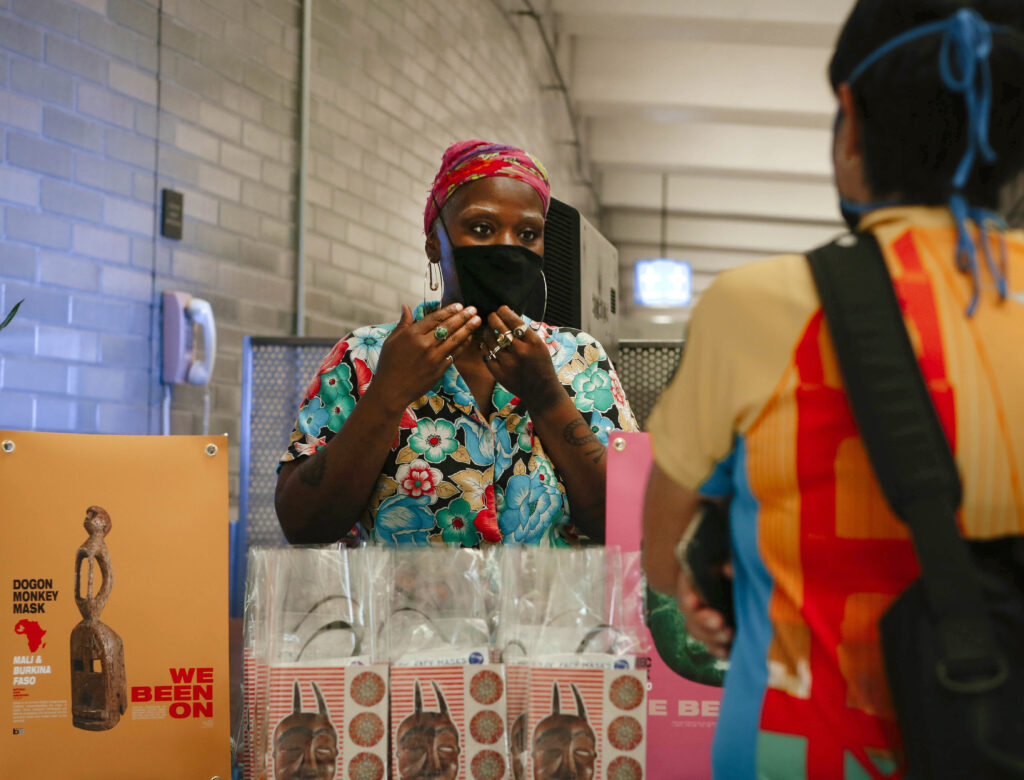 Creative placemaking is an approach that every community can and should consider. There are several definitions of creative placemaking used in a variety of contexts by other well-respected groups that have given us guidance. But for this primer tailored specifically for transportation planners, public works staff and local officials, we use the following definition:
"In the transportation context, creative placemaking is an approach that deeply engages the arts, culture, and creativity, especially from underrepresented communities, in planning and designing projects so that the results better reflect and celebrate local culture, heritage and values."1
New tools for a new era — why is it needed?
This guide can help you get started and educate you on the exemplary projects that have recently been completed at the intersection of arts, culture, and transportation.
Hundreds of projects are in progress to meet the booming demand for jobs and homes better connected by public transportation. According to research by Smart Growth America, between 2010 and 2015 more than 500 companies moved to downtown locations, in large part to find the type of walkable and transit-connected locations demanded by their workforce—similar to Amazon's hunt for HQ2 and their core, non-negotiable requirement for robust transit connections. But a new approach is needed to ensure that attempts to provide more housing in places with affordable transportation connections doesn't lead to displacement or repeat past mistakes, even when aiming to do things like repair damage done to low-income neighborhoods and communities of color during previous rounds of urban renewal and freeway construction.
Mistakes of the past are being repeated
People of color, especially African Americans, are disproportionately killed while walking on streets that are dangerous by design. The interstate highway network, begun in earnest in the 1960's, was designed to accelerate out-migration from cities, often prioritizing white commuters at the expense of the inner-city neighborhoods of color that those roads either obliterated or cut in half. This is not just our history—it persists in our present. A massive proposed ongoing expansion of I-45 in Houston would seize hundreds of homes in a predominantly Black neighborhood, repeating many of the same mistakes of the worst of the 1960s-era highway expansion.
These sorts of structural problems persist today in part because the field of state or local transportation professionals, and their governing bodies, rarely include a representative percentage of people of color, hindering efforts to provide culturally-specific solutions to these disparities.2 But it goes beyond representation—it's also due to our historic top-down approach to transportation planning that has rarely engaged the public in a meaningful way.
Reasons for optimism
Projects will produce better outcomes when communities have a sense of ownership and stewardship because they see their values, culture and heritage expressed throughout the process and in the end result. But leaders also measure a project's success not only by the level of economic and population growth it supports, but also by the ability to help rather than displace the community.
The stories we profile in this guide represent the new, creative, collaborative approaches that many communities are turning to as they plan transportation projects, where artists have a major role to play. Artists can also help create more collaborative processes that build greater public support—support which is needed more than ever during a time in which technology is rapidly reshaping how people get around, funding is uncertain, and the political climate is unpredictable.
Many artists are doing this through creative placemaking. This intersection of art, culture, and transportation is not new, but it can be improved. While public art has been incorporated into art in bus or subway stations, the artist's role is too often an after-the-fact aesthetic contribution. Artists are only brought into the process long after community engagement, planning, and design are complete. This "cherry on top" approach has its merits, but we are suggesting a more comprehensive approach.
Bring artists in from the beginning
When artists join a project team at the outset, they can contribute to the process of identifying the problem, organizing support, and collaboratively finding a solution. That may include process-oriented approaches, where artists play the role of leading community engagement, asset mapping, visualizing mockups of projects, for example, in addition to the more familiar forms of public art like murals and sculptures. These types of practices include performance, music, storytelling, digital media, social practice and more.
Beyond merely avoiding displacement, done right, incorporating local arts, culture and heritage can help neighborhoods become distinct and unique places — destinations in their own right.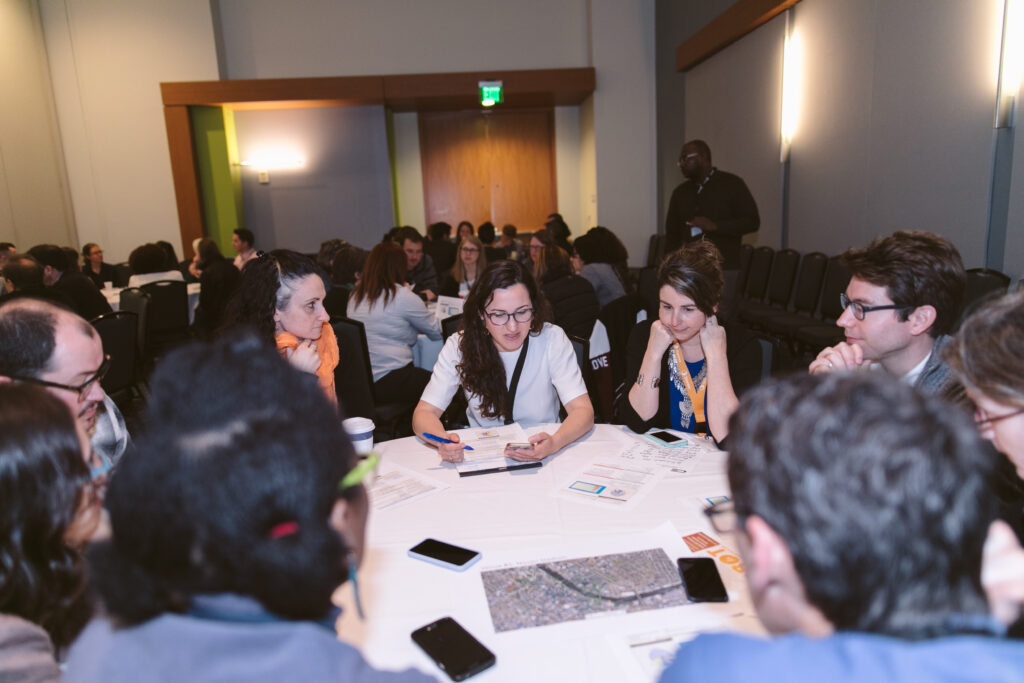 What makes creative placemaking different from public art?
Simply put, creative placemaking describes a process—the integration of an artist into a community development project in order to address a specific challenge or opportunity, while public art describes only a final product—a work of art situated in public space, while. But art in transportation is not new.
For many the first thing that comes to mind when you put "art" and "transportation" in the same sentence is public art installations in plazas, transit station areas or public rights of way. In many cases, the artist's role is an aesthetic contribution through a sculpture or mural; these projects often bring artists into the process long after community engagement, planning, and design are complete. Nevertheless, these public art projects are critical to improving the rider experience, connecting transportation infrastructure to surrounding communities, and providing a platform and funding for visual artists.
Percent for art
These types of public art projects are often funded through "percent for art" ordinances, which mandate the use of a percentage of an infrastructure or development project's total cost for
public art. These ordinances vary in terms of the percentage amount, the types of funds that qualify, and the level of government at which they are created and enforced. More than 350 of these ordinances are currently in place in the United States, and there are wide variations in how they each work. Additional information on percent for art programs may be found in MAPC's Arts & Planning Toolkit.
Art in transit programs
Art in transit programs are managed by transit agencies and usually focus on incorporating permanent works of public art in station areas, though some programs have begun experimenting with ephemeral works including performances in stations and on trains. These programs are often financially supported by a percent for art ordinance. Art in transit programs are active at Los Angeles Metro, Charlotte's CATS, Portland's TriMet, St Louis' Metro Transit, the Bay Area's BART, Atlanta's MARTA, and at other transit agencies across the country.
Art in transit programs are currently jeopardized by federal funding restrictions. The enactment of the Fixing America's Surface Transportation Act (FAST Act) in 2016 established a new prohibition on the use of FTA funds for "incremental costs of incorporating art or non-functional landscaping into facilities, including the costs of an artist on the design team" (49 U.S.C. 5323(h)(2) as amended by FAST).
Creative placemaking is distinctive because it focuses on process
A creative placemaking process may very well lead to the creation of a work of public art or it may lead to a new policy or procedure without also including the creation of a work of public art. Public art created without the most involved process of creative placemaking can lead to art that lacks a connection to community needs and challenges, often made in relative isolation.
We advocate for a creative placemaking approach to art in transportation, regardless of whether or not it leads to the creation of a work of public art. When artists join a project team at the outset, they can contribute to the process of identifying the problem, organizing support, and collaboratively finding a solution. This website encompasses a broad scope of artistic practices that includes process-oriented approaches in addition to the more familiar forms of public art like murals and sculptures. These types of practices include performance, music, storytelling, digital media, social practice and more.
So what else makes this process distinctive?
Partnerships are key. Creative placemaking is a process developed through mutually beneficial partnerships between local government, members of the community and artists.
Arts and culture are utilized as a process, not exclusively as an outcome. Creative placemaking taps arts and culture as a medium to achieve any number of goals. The process may include permanent art works or temporary installations, events or activities. For example, in response to local demand for safer streets and more green space, an artist might work with a group of community members to develop beautiful renderings of a new park surrounded by complete streets infrastructure. These artistic renderings are not an end but a means to achieving the stated goal.
Improving participation and equity is a central goal. Creative placemaking puts a strong emphasis on intentionally and thoughtfully engaging populations—low-income people, communities of color, recent immigrants—that have traditionally been underrepresented in urban development and transportation planning processes.
The artist as a vessel for community vision. Creative placemaking differs from most mainstream traditional art in that partners work toward a vision or goal that is led by the community, rather than solely the vision of an artist. Think about artists like doctors; there are both specialists and general practitioners, and it is ideal to work with a general practitioner who will customize their approach to your place.
It is an iterative process that may require more time. Creative placemaking places artistic practices and local cultures at the nexus of helping communities create better places. Like most of the time when you're trying to solve a new problem or meet a goal, it is non-linear and subject to change. While securing a public artist through a traditional process is relatively cut and dry, creative placemaking partners do a lot of brainstorming, testing and learning along the way. Because of this, it's important to start small and assess risks.
—
A sampling of other complimentary definitions of creative placemaking by partner organizations include the following:
"Creative placemaking is when artists, arts organizations, and community development practitioners deliberately integrate arts and culture into community revitalization work – placing arts at the table with land-use, transportation, economic development, education, housing, infrastructure, and public safety strategies.

National Endowment for the Arts
"Creative Placemaking is the intentional integration of arts, culture, and community-engaged design strategies into the process of equitable community planning and development. It's about artists, culture-bearers, and designers acting as allies to creatively address challenges and opportunities. It's about these artists and all of the allies together contributing to community-defined social, physical, and economic outcomes and honoring a sense of place. Retrieved from www.artplaceamerica.org/about/introduction.

ArtPlace America
"Creative Placemaking…elevates arts, culture and community-engaged design as central elements of community development and planning. Creative Placemaking can involve many approaches. Its core function, however, is elevating the unique attributes of a place through the voices of its residents. If we involve artists and culture bearers to rethink the concept of community development, we are able to create a new perspective that embodies the culture and voices of the people who live there. This approach can contribute to enhanced pathways for people with low incomes to lead self-determined, healthy lives and to contribute to more just outcomes. However, it must take aim – in an explicit, nuanced and multifaceted way – at the structural inequalities of systems, policies and practices that are embedded in all dimensions of community life. Creative Placemaking provides an intentional way to advance toward equity and justice.

Kresge Foundation
---
Read the previous section:
Read the next section:
Our definition comes from The Scenic Route: Getting Started with Creative Placemaking and Transportation, our original 2016 guide to creative placemaking. A sampling of other complimentary definitions of creative placemaking by partner organizations can be found at the bottom of this page.
For more on the structural problems with representation and providing culturally-specific solutions to these disparities, read these two resources: The Great Recession and the Decline of the Black Middle Class, by Valerie Wilson and the Economic Policy Institute. (2014, May 9). And a from the Transportation Equity Caucus. (n.d.)