As the inaugural artist for the Creative Catalyst Artist-in-Residence program at Los Angeles Department of Transportation (LADOT), Alan Nakagawa delivered on the agency's goal for the residency to stimulate out-of-the-box thinking. During his time at LADOT, Nakagawa leveraged his unique position to train staff on the critical role of storytelling in designing streets for zero pedestrian fatalities. 
The challenge
In an effort to connect residents with the city's vision for a safer, more sustainable, and dynamic Los Angeles, the Los Angeles Department of Cultural Affairs (DCA) developed the Creative Catalyst Artist-in-Residence program. Through the program, LADOT worked with local creatives to integrate "outside-the-box thinking in the city's approach to pressing issues."
The project
Alan Nakagawa served as the inaugural Creative Catalyst Artist-in-Residence at LADOT from 2016 to 2017. Nakagawa primarily focused on LA's Vision Zero efforts; he felt that convincing civil engineers to buy into the concept of designing for zero pedestrian fatalities required building empathy through telling the stories of those most impacted by traffic violence. However, the engineers that Nakagawa encountered admitted that they had been trained to avoid telling their stories, and instead to be objective and data-driven. Consequently, through his role, Nakagawa ran a number of storytelling workshops for LADOT's engineers.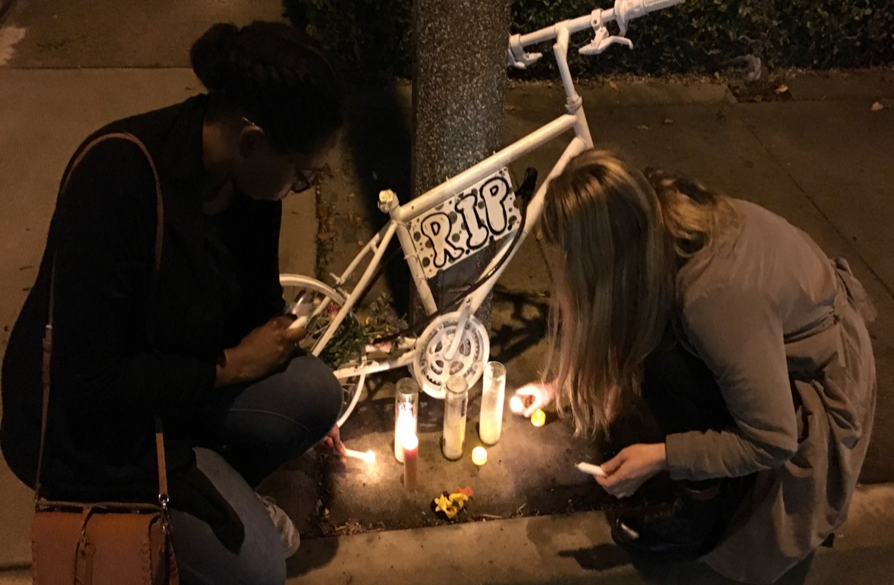 Beyond directly influencing engineers, Nakagawa also participated in more public-facing projects including ghost bike memorials. Ghost bikes are part of an international movement that uses white-painted bikes to memorialize cyclists who have been killed in traffic; Nakagawa worked with cycling advocates to have the City of Los Angeles formally recognize the ghost bike memorials, thereby ensuring that the city no longer removes the memorials.
The results
As a result of Nakagawa's storytelling work, LADOT's chief engineer delivered a conference presentation on LA's Vision Zero work that included stories about the ramifications of dangerous roads and their impact on people who are hit, the people who hit pedestrians, and their extended networks. Nakagawa and his team recounted that it was the first time they had seen "a room full of engineers cry," thanks to the power of storytelling to create empathy for all people who need to use the city's roads. Seleta Reynolds, LADOT's General Manager, added that artists have helped LADOT staff learn communication, storytelling, and listening skills, which has helped drive a culture shift within LADOT to design and build streets that are safer and better serve everyone's needs.
Key partners: Los Angeles Department of Transportation, Los Angeles Department of Cultural Affairs, Alan Nakagawa