The Memphis Medical District Collaborative employed a local-to-the-neighborhood artist to enhance the streetscape for all users in the hospital and university campuses throughout their medical district.
The challenge
The Memphis Medical District Collaborative is involved in over 20 initiatives in the medical district of Memphis, which is anchored by multiple research, education, and practitioner medical institutions. MMDC's programs and incentives work to strengthen the neighborhoods in the District to make the area more livable, vibrant, and safe. Their projects—often supported through grants and incentives—range from quality public spaces to real estate development and transportation & mobility.
Many of the streets in Memphis, including those in the district, lack a variety of transportation options. The organization made a goal to make it easy for Memphians to explore the different ways to travel to, from, or around the Memphis Medical District. They provided or supported short-term prototypes that could later be implemented through local government systems or the nonprofit itself. These prototypes included a Groove shuttle expanding bus transit, mobility concierges, and temporary bike share stations.
The project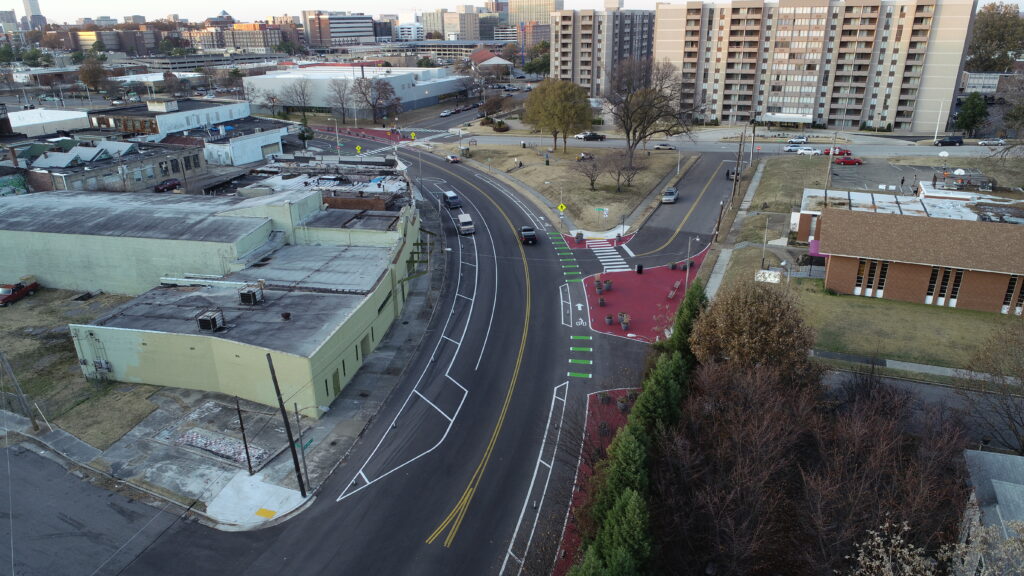 MLK Avenue in Memphis runs from the medical district to downtown Memphis. The streetscape enhancement project on its surface created a safer and more accessible street for all users by including a variety of safety features, such as high visibility crosswalks, dedicated bike lanes, narrowed vehicular traffic lanes, pedestrian bump outs, and a traffic diverter at a neighborhood park. The project corridor also included additional amenities like bike racks, bike repair stations, benches, and trash and recycling receptacles. A focal point of the design is an artistic median installation by local artist Anthony Lee, located in front of the Southwest Tennessee Community College Sails Gymnasium.
The goal of the project was to match the quality of the public spaces to the quality of the hospital and university campuses throughout the District, therefore Lee—an artist whose studio is located in the district itself—came in to do just that. The artistic median in the streetscape both beautified the street and slowed down traffic.
The results
MMDC's opportunity to be innovative in their approach allowed them to test low-cost, short to mid-term interventions that generated high impact positive results. The improvements using "lean" designs and materials enhanced safety and function without pouring new concrete or disrupting existing stormwater flow in the area.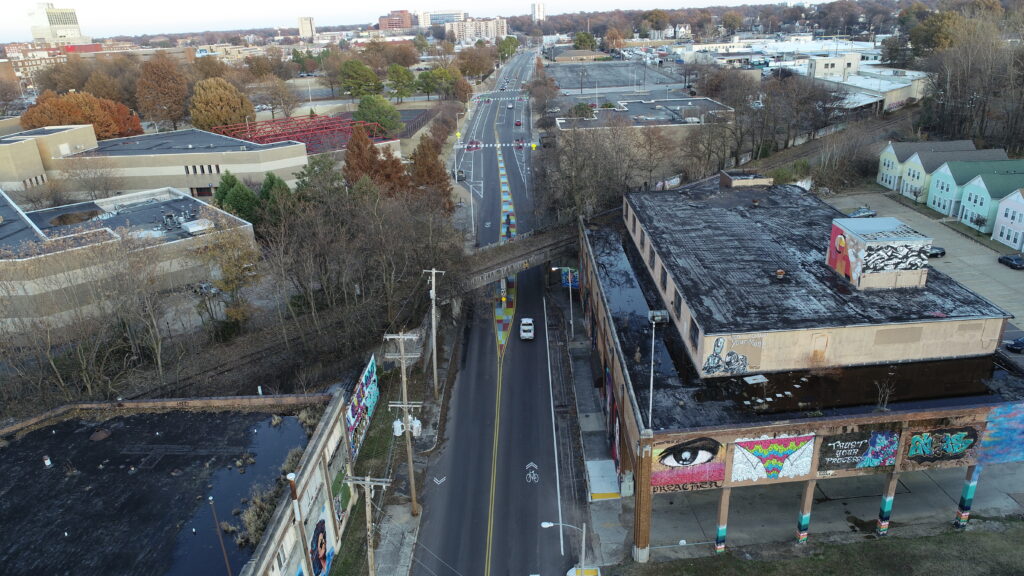 Key partners: Memphis Medical District, City of Memphis