Thoughtfully addressing homeless ridership during the pandemic in Atlanta, GA
The challenge
During the COVID-19 pandemic, the Metropolitan Atlanta Rapid Transit Authority (MARTA) saw an increase in the number of unsheltered people seeking refuge in the transit system. To assist these individuals, MARTA partnered with HOPE Atlanta, a local non-profit organization that provides housing, social services, substance abuse counseling, and employment to those who are experiencing homelessness.
The project
With assistance from Forecast Public Art, SGA selected and commissioned artist and social worker Franco Bejarano to design an engaging art piece that highlights those experiencing homelessness, and increases awareness of MARTA HOPE resources. Through large-scale portraiture, the team sought to invoke feelings of compassion and raise awareness of individuals who may not be aware of people experiencing homelessness in their community.
Franco began by collaborating with MARTA staff to outline a person-centered engagement process that connected with unsheltered individuals in an ethical manner. Franco shadowed the outreach team at the Five Points station, which is located downtown and is currently the epicenter of homelessness in Atlanta, to gain a better understanding of MARTA HOPE's work. Franco spoke with several individuals, who shared their stories and suggested additional ways that staff could support their needs.
Franco designed ten large-scale pencil portraits titled "Street to Home," featuring MARTA HOPE clients who frequently use MARTA for both shelter and transportation. Shortly after the first draft of the posters, the MARTA team realized there was a shortage of diversity within the portraits. While the initial goal of the project was to highlight individuals currently receiving social services, the team thought it was important to express that homelessness is not the end point, as individuals are able to emerge from it successfully. The drawings were then expanded to also portray individuals who have experienced homelessness in the past and are now securely housed. 
Project team:
Franco Bejarano, Artist
Katherine Dirga, Metropolitan Atlanta Rapid Transit Authority
Tracey Crosby, Metropolitan Atlanta Rapid Transit Authority
Jesse Pratt-Lopez, Photographer
Equally important, the team wanted to make sure they could connect those experiencing homelessness with the various resources offered by MARTA HOPE. Therefore, several posters in the project include contact information for housing and mental assistance and support services for queer youth.
The result
These drawings continue to spread visibility of Atlanta's unsheltered neighbors in a way that instills dignity and humanity in those who can identify with them while also creating awareness in the general audience. Moreover, they serve as resources to help support neighbors in need.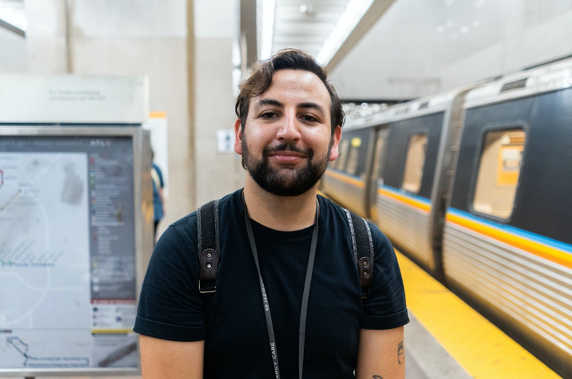 Franco Bejarano is an artist and social worker in Atlanta, GA. He received his MSW from UGA in 2016 and currently works in the field of homeless services. Franco uses his artwork as intervention tackling societal issues and mental health through the mediums of portraiture, children's books, and art therapy. His work is rooted in the belief that the therapeutic and impactful powers art has on individuals and communities lie in not just the finished product, but the process, the engagement, and the message it can transmit. Since 2017, Franco has been creating life-size portraits of people experiencing homelessness with whom he has formed strong personal relationships throughout their journey in housing them. In 2021 he was awarded a proclamation by Atlanta City Council for his housing work.
This project was part of Smart Growth America's Arts & Transportation Rapid Response, an initiative for transportation agencies looking to creatively and quickly address pandemic-related transportation challenges. You can read about the other projects that were a part of this initiative here.