As part of the Arts & Transportation Rapid Response initiative, West Central Initiative (WCI), a rural regional planning agency in west central Minnesota, worked with artist Naomi RaMona Schliesman to come up with creative, safe ways to engage the community during COVID-19 and better inform their Safe Routes to School planning. Schliesman designed a versatile kit consisting of engagement tools that WCI will use during (and after) the pandemic to reach a wider range of people in the community.
The challenge
West Central Initiative (WCI) is a rural regional planning agency that serves a nine-county region in west central Minnesota. In addition to economic development and transportation planning, WCI works with students, parents, teachers, community members on Safe Routes to School (SRTS) planning, engagement, and encouragement activities. However, due to COVID-19, WCI knew they would not be able to engage stakeholders like they had in the past. WCI sought to work with an artist to design a community engagement toolkit they could use during (and after) COVID-19 to reach a wider range of people during their Safe Routes to School planning.
The project
With help from Forecast Public Art, Smart Growth America selected and hired artist Naomi RaMona Schliesman, based in Fergus Falls, MN, to design and develop a Safe Routes to School community engagement kit.
Schliesman started by working with WCI staff to outline engagement needs and goals—both virtual and in-person—and then conducted school site visits to better understand possibilities for in-person engagement. Based on that information, Schliesman created a multilingual kit that included street stencils, play sculptures, rainbow barricades, coloring page pennants, bike decals, a bike sculptural table, and even a new logo.
Because some rural towns may only have a couple hundred people, equity discussions can quickly devolve into "othering," sometimes harmful conversations that call out specific individuals who hold those identities. To enhance WCI's Safe Routes to School work and make equity conversations more productive, the new toolkit features six characters known as "The Rainbow Friends:" Bear, Deer, Duck, and Frog who are native to the area, and Elephant and Kangaroo, who recently moved to Minnesota, who hop, walk, bike, and roll to school. Jill Amundson, Associate Planner at West Central Initiative, says these characters will be key to the success of the program. "These animal characters allow us to speak about equity issues in smaller communities more effectively," Amundson said.
WCI has already started working with external partners, like Minnesota Department of Transportation and local schools, to implement the toolkit virtually and in-person. In Ashby, MN and Henning, MN, where school is currently taking place in person, Schliesman and WCI set up the bike sculptural table and play sculptures which are intended to pique community members interest and open conversations on Safe Routes to School. They also used the toolkit's footprint stencils and spray chalk to create paths leading up to the schools and walking circles that students can use while remaining socially distant. In Ashby, MN, they placed the rainbow barricades alongside the nearby busy highway to provide students with separation from vehicles and to serve as a visual cue to drivers to slow down.
Project team:
Naomi RaMona Schliesman, Artist
Wayne Hurley, Director of Planning, West Central Initiative
Jill Amundson, Associate Planner, West Central Initiative
The results
This is just the beginning for the toolkit. WCI has plans to roll out components of the toolkit in each of the nine counties they serve in the coming year. "It's going to be such a great resource for us to have as we continue our work to make the communities in our region safe, fun, and easy places for people of all ages to walk and bike!" says WCI's Planning Director, Wayne Hurley.
For planning agencies around the country seeking to launch similar initiatives, consider the following reflections from WCI and Schliesman's work:
Work with a local artist who knows your community. Schliesman, who lives and works in WCI's nine-county region, unsurprisingly has significant insider knowledge of and connections to the communities. This, paired with her fresh perspective and inquisitive creative style, was key to the success of the project.
Flexibility is key, especially during COVID-19. Especially during the pandemic, being able to adapt to changing situations and demands may mean the project doesn't look exactly like what you envisioned, but may end up better reflecting the needs of the community. This project was originally scoped to be a virtual toolkit, however as the pandemic conditions evolved in the summer it was clear that creating a toolkit that worked in person as well would be more valuable in the long term.
The power of word-of-mouth in rural communities. Of the two toolkit installations that were completed, WCI and Schliesman found that the installation at the school located in the center of downtown led to deeper conversations with community members. Because of that school's proximity to the grocery store and the community center, more people ended up stopping by and asking questions during the installation compared to the school that was located closer to the edge of town. Those conversations led to other community organizations and newspapers sharing the work and the project.
"By asking questions and suggesting new ideas and approaches to that work, it got us thinking about it in a way that we hadn't previously. It's sometimes easy to get into your routine when you do this work, and having Naomi involved in the project brought an infusion of energy that helps recharge us and the work we do."
– Wayne Hurley, Planning Director at WCI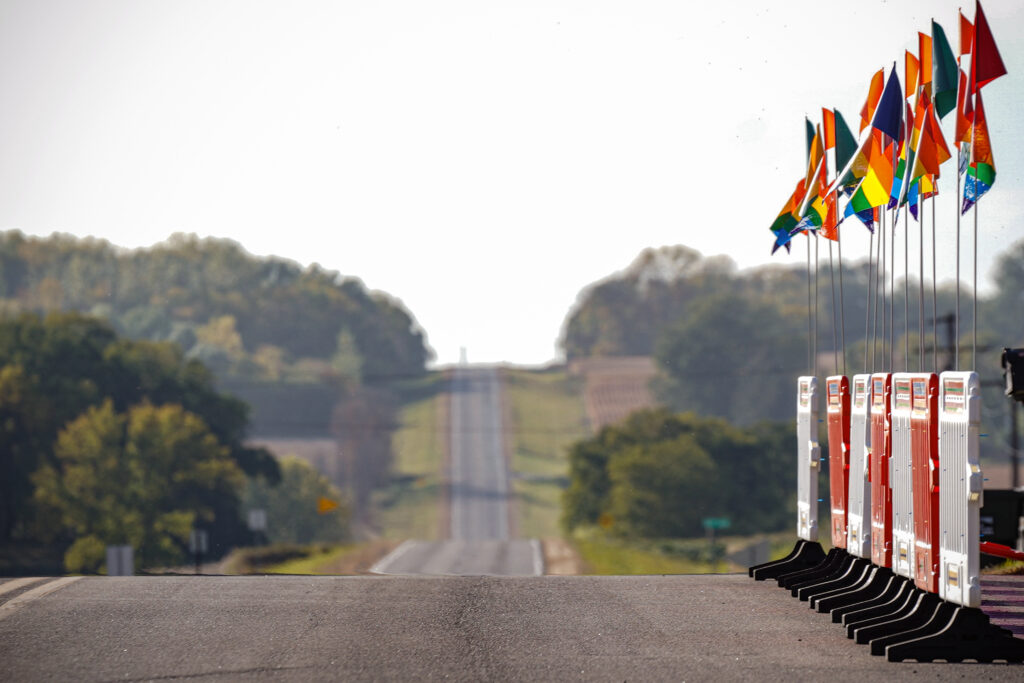 This project was part of Smart Growth America's Arts & Transportation Rapid Response, an initiative for transportation agencies looking to creatively and quickly address pandemic-related transportation challenges. You can read about the other projects that were a part of this initiative here.
Key Partners: West Central Initiative, Naomi RaMona Schliesman, Smart Growth America, Forecast Public Art