New rural transportation service to support public health, equity amid the COVID-19 pandemic in Ware, MA
The challenge
Quaboag Valley, one of Massachusetts' most rural, least populated, and remote places, was recently classified by the Massachusetts Department of Environmental Protection as an Area of Economic Distress. These areas are generally characterized by declining populations, lower income levels, and fewer transportation and broadband options, all of which can lead to worse health outcomes and reduced quality of life. This results in transportation deserts which impact the health, economic, and social well-being of every member of the community.
The Quaboag Valley Community Development Corporation (QVCDC) and the Town of Ware, MA launched a pilot shuttle to complement its current demand-response ride service, the Quaboag Connector. Through this new service, QVCDC wishes to address public transportation as a social determinant of public health and social equity.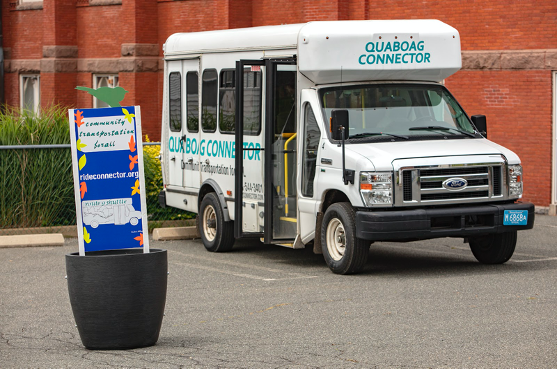 COVID-19 exacerbated community skepticism of public transportation. To address this problem, QVCDC needed a way to promote the new route that would be inviting and inspire trust from the community, especially during a time when public transportation did not feel safe for many because of the pandemic. Promotion needed to be flexible due to the fact that the project is a pilot and because of the changing safety protocols and messages about COVID-19.
The project
In partnership with Forecast Public Art, Smart Growth America hired artist Rochelle "Shelly" Shicoff to design a campaign that communicates the availability of the new route and to build excitement about the new transit service in the community. Additionally, this initiative provides up-to-date information on COVID-19 and relevant safety protocols to keep riders and drivers safe.
Shelly and the Quaboag Valley Community Development Corporation (QVCDC) team began by scoping out the key strategies for promotion and identifying the target audiences for this campaign. The team's goal was to create an outreach campaign that reflects the unique identity of the community while also emphasizing the benefits of the service.
Shelly designed an outreach strategy that includes a two-part poster series, notifying residents that the shuttle is "coming soon" and celebrating the access that the service creates, titled "getting there". The poster series emphasizes the shuttle's website and route map and features the phrase "community transportation for ALL," encouraging local residents to feel safe using the new service. Working in partnership with a local printer, Shelly also created large-scale signs uniquely placed in large flower planters to help residents identify key stops along the bus route.
The result
This campaign not only raises awareness about the new shuttle but also directs community members to the new website, which offers frequent updates on the service. The Quaboag Connector will be a community mainstay, linking residents to their most essential locations and providing community transportation for all.
Project team
Rochelle Shicoff, Artist
Jen Healy, Quaboag Valley Community Development Corporation
Sheila Cuddy, Quaboag Valley Community Development Corporation
John Polak, Photographer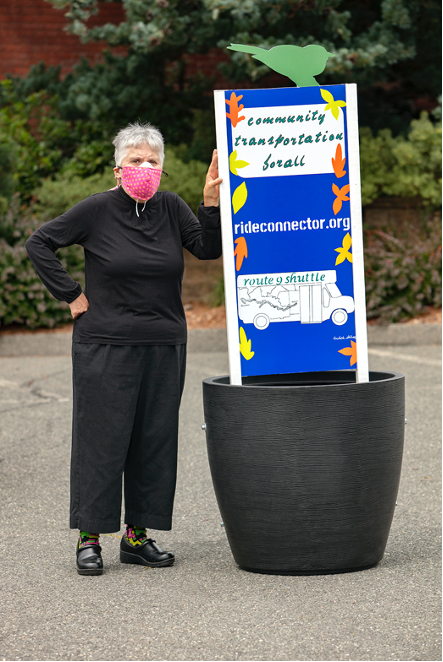 Rochelle Schicoff is an artist whose paintings have been exhibited nationally and internationally. In 1980 she was the recipient of the Rome Prize Fellowship in Painting and spent a year painting in Rome, Italy, and traveling throughout Europe and the Middle East. Among her awards are Visiting Artist residencies, community grants, and nominations for the Fulbright, and American Academy of Arts and Letters. In 2001 she co-authored The Mural Book: A Practical Guide for Educators published by Crystal Productions which was specifically written for K-12 educators. Her public art murals can be seen in NYC, Massachusetts, Florida, Georgia, and Mexico. Her murals have been awarded an Art in Action Grant, The Women Waging Peace Award, Youth Friends Award, NYC Dept of Ed., NY State Council on the Arts, and MA Council for the Arts. She is a member of Gallery A3/Amherst, Quabbin Art Association/Belchertown, and Artmakers, Inc./ NYC.
This project was part of Smart Growth America's Arts & Transportation Rapid Response, an initiative for transportation agencies looking to creatively and quickly address pandemic-related transportation challenges. You can read about the other projects that were a part of this initiative here.