Encouraging transit riders to "Respect the Space" at crowded bus stops and stations in Allegheny County, PA
The challenge
At the start COVID-19 pandemic, the Port Authority of Allegheny County saw a drastic decrease in transit ridership due to information about the spread of the virus. Levels continue to be significantly lower overall, however, those who are riding are condensed on certain routes, leading to overcrowding on buses and the stops associated with them.
The majority of these remaining riders are essential workers: individuals who work in healthcare, at grocery stores, and other institutions that have been deemed essential during the ongoing pandemic. Essential workers in the region are more likely to be low-income and people of color. These essential frontline workers are at a greater risk of contracting and, in many cases, dying from COVID-19.
As part of its COVID-19 response, Port Authority launched a messaging campaign called 'Safe to Go', which informs the public about how to safely ride transit, and what steps the agency is taking to sanitize vehicles and keep riders safe. To expand this program, they relied on the help of a local artist.
The project
With help from Forecast Public Art, Smart Growth America selected and hired Pittsburgh artist Janel Young to work with the Port Authority to design an innovative mural that encourages transit riders to respect their neighbors—and their neighbors' space—at local bus stops and on public transit. Port Authority has had to increase or even double frequency on certain routes due to high ridership and crowding on vehicles as a result of reduced capacity.
Janel began by conducting surveys of local transit riders, to gain a better understanding of their experiences with changing rules, and gain feedback on ways to make their bus stop experience better. Several riders expressed concerns about the "lack of respect" that they experienced at local bus stops and suggested more art and interaction to help improve their transit experience. She also connected with Pittsburgh for Community transit, a local advocacy organization that includes riders as well as union workers who serve as drivers of local transit, to gain insight into their experiences while riding and working in public transit.
Playing on the concept of space and incorporating feedback she received from local residents, Janel designed a block-long mural along the curb of the busiest bus stops, encouraging local transit riders to not only follow the COVID-19 protocol established by the Port Authority but be respectful of their neighbors as they ride. Janel's mural, titled "Respect the Space" is a bright and playful piece that helps uplift residents and makes them feel safe as they use transit and wait at bus stops.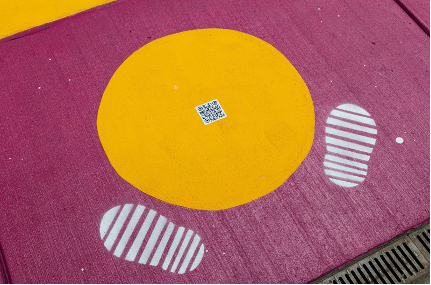 When Janel heard feedback from riders, they also recommended using music or entertainment to help enhance the experience for transit riders. The mural includes several QR codes that link to a curated music playlist for riders to enjoy on their daily commutes. This playlist helps increase engagement with Janel's artwork while offering relaxing tunes for community enjoyment.
The result
As rules around masking and social distancing continue to change, there is one golden rule that never changes: respect your neighbors. Janel's mural helps brighten the transit experience and continues to provide comfort and entertainment for Allegheny County residents on their daily commute. Shortly after the mural's completion, Janel was named one of Pittsburgh's People of the Year by the Pittsburgh City Paper.
Project team
Janel Young, Artist
Moira Egler, Port Authority of Allegheny County
Tim Frank, Port Authority of Allegheny County
Kathryn Schlesinger, Port Authority of Allegheny County
Darcy Lynn Cleaver, Port Authority of Allegheny County
Raymond Carrington, Photographer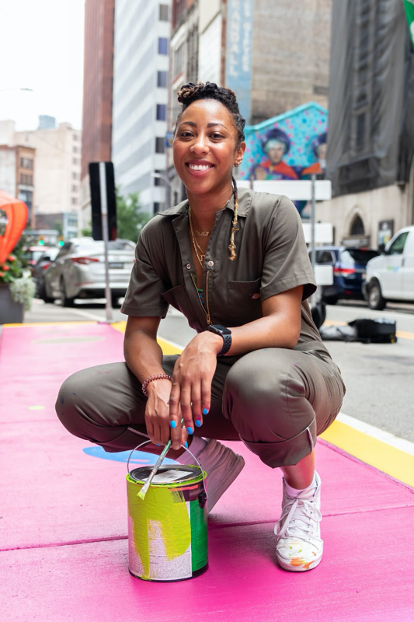 Janel Young is a Pittsburgh-raised artist who further developed her work in New York City over the course of five years, focusing on murals, abstract, and landscape works. Her style contains blending, bright colors, and geometric inspiration. She found a love for painting after being selected as part of a mural painting team in seventh grade and later completed an International Baccalaureate art program in 2009. She moved to New York in 2013 after graduating from Penn State University (B.S. Marketing and International Studies) and held onto art for self-therapy, expression, and activism. She returned to her hometown in 2019 to complete Pittsburgh's first art basketball court: The Home Court Advantage Project. Janel's artwork has been recognized locally and internationally, including being awarded a proclamation by the City of Pittsburgh, within AfroPunk.com, The Apollo Theatre, Carnegie Library of Pittsburgh, Ebony Magazine, at the 2020 U.S. Open Tennis Tournament, Verizon Media, Yahoo.com, and RAW Artists shows in New York City and Sydney, Australia.
This project was part of Smart Growth America's Arts & Transportation Rapid Response, an initiative for transportation agencies looking to creatively and quickly address pandemic-related transportation challenges. You can read about the other projects that were a part of this initiative here.