Since the early 1990s, the Atlanta Regional Council (ARC), the region's metropolitan planning organization (MPO), has increased its understanding of the importance of arts, culture and creative industries to regional prosperity. In the early 2000s it partnered with the Metropolitan Atlanta Arts and Culture Coalition (MACC)—a decade-old entity that had been the leading voice for the development and funding of cultural organizations in the Atlanta region— to conduct major research on creative industry data and co-host public forums on the value of arts and culture in economic development, regionalism, education and quality of life.
The challenge
Since 2012, the ARC has included arts and culture as a staffed focus area, focusing on three programs: Arts Leaders of Metro Atlanta, Cultural Forums, and the Atlanta Regional Public Art program. In 2019, ARC's board adopted a regional Arts, Culture, & Creative Placemaking Strategic Plan designed to better integrate arts and culture into the agency's planning work.
In transportation, the group has helped Community Improvement Districts (similar to business improvements districts in other metro areas) reimagine several MARTA transit stations through arts and tactical urbanism, and provided a shuttle service for seniors to and from the symphony.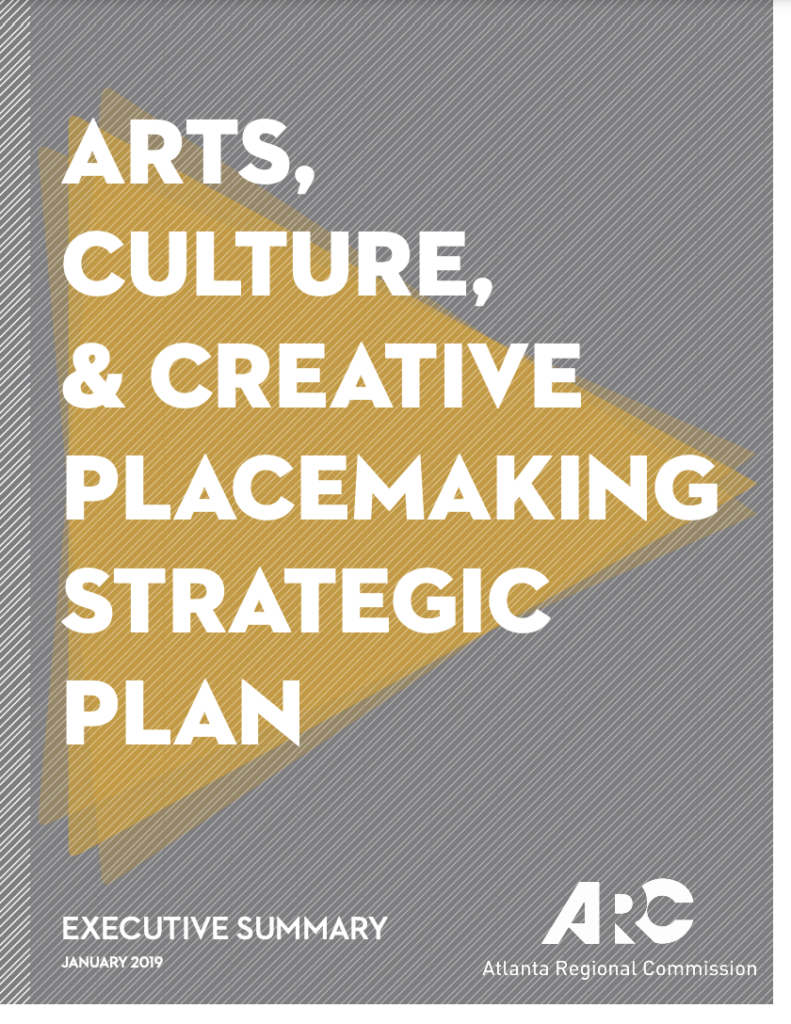 The project
The ARC provides the following information about its core programs:
Arts Leaders of Metro Atlanta
Arts Leaders of Metro Atlanta encourages leaders throughout the community to take an active role in solving the issues and challenges facing the region's arts and culture community. The program brings together arts leaders and political, corporate and nonprofit supporters for five days of classes spread over a five-month period.
Atlanta Regional Public Art Program
The Atlanta Regional Public Art Program is a competitive grant program that provides matching funding to communities across the Atlanta region for public art installations. Inspired by Philadelphia's Mural Arts Program, participating communities select artists and sites and design a community engagement process to develop their projects. ARC provides training and technical assistance to support the collaborative public art process. The first grant recipients were selected in 2015.
Cultural Forums
The Atlanta Regional Commission regularly convenes Cultural Forums that bring voices and ideas from outside the region together with local leaders to discuss arts and culture topics in a public setting. Since 2013, the ARC has produced more than 10 forums on topics including arts and aging, arts and economic prosperity, and creative placemaking.
Key partner: Atlanta Regional Council