After decades of disinvestment due in part to the construction of Interstate 40, Broad Avenue, community organizations produced a two-day festival to build support for a proposal to create a bicycle connector linking two neighborhoods.
The challenge
Broad Avenue was once a bustling main street, but in the 1970s Interstate 40 was built in its place; a move that split the neighborhood in two, displaced hundreds of residents, and led to decades of disinvestment. In November 2010, motivated to build support for the district surrounding Broad Avenue, BLDG Memphis (formerly Livable Memphis) and Broad Avenue Arts District teamed up to hold a two-day festival that would reinvigorate the area and help highlight potential ways to reconnect the neighborhood.
The project
Using a borrowed and adapted concept from the Better Block Foundation, project partners in Memphis's Broad Avenue corridor staged a two-day festival, "A New Face for an Old Broad." The goal was to attract foot traffic to the area and build support for a proposal to create a bicycle connector linking two neighborhoods. Bringing together arts programming, popup businesses, and staged pedestrian and bicycle infrastructure gave residents a taste of what was possible. This included:
"[Restriping] the 60-foot-wide Broad Avenue, adding crosswalks and protected bike lanes;
"[Angling and positioning] on-street parking as a protective barrier for bike lanes and to increase parking spaces;
"[Instituting] a "road diet" that required vehicles to slowly ease (rather than speed) through two lanes while people walked and bicycled nearby;
"[Turning] a vacant parking lot into a skate park;
"[Enhancing] street infrastructure by positioning street trees along the sidewalks and storefronts;
"[Creating] a "bump-out" to help slow traffic by placing large planters filled with 10-foot cedars next to vehicle traffic lanes; and
"[Installing] antique-style street lamps to provide better lighting ambiance and security"
This one-weekend live demonstration provided a great opportunity for residents to safely walk, roll, and bike through the space; leading to increased business for shops along the corridor. The group eventually secured funding for the project, including $75,000 in private donations.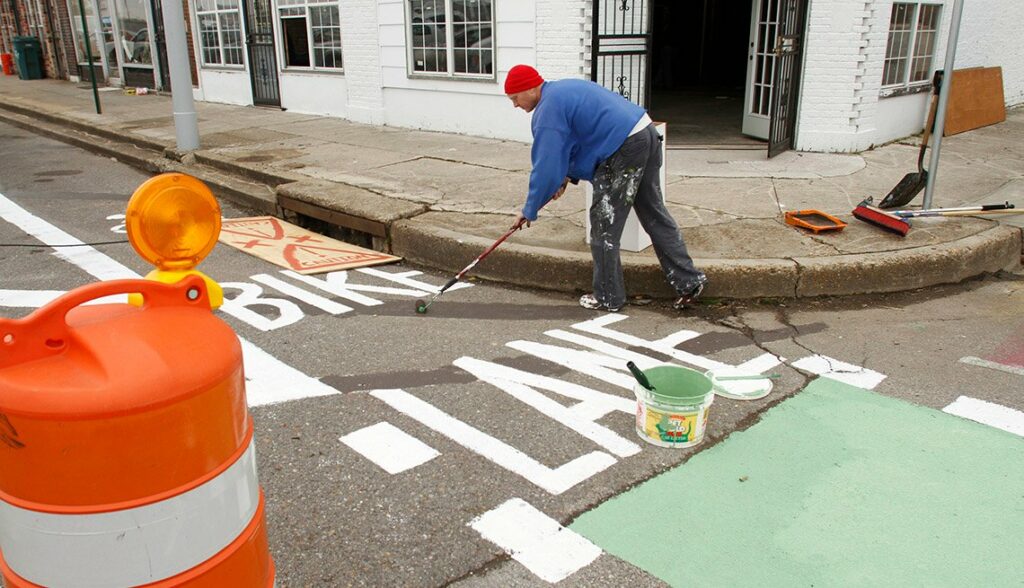 The results
The project's positive reception and strong community engagement helped spur an entire movement for the City of Memphis to develop Complete Streets, including a new citywide ordinance requiring all new and reconstructed streets to consider the safety and needs of all users. In February 2021, the 300th mile of bikeway in Memphis was added, a huge difference from the 1.8 miles the city had in 2010.
Later on business leaders secured formal designation by the city as an arts corridor, and continued to develop the corridor as a destination in its own right. More than $20 million in reinvestment has occurred in the form of new businesses and property renovations, including new housing development, a two-mile long bicycle and pedestrian corridor that features the city's first bicycle-specific traffic signals, and the permanent location of a ballet company highlighting dancers of color.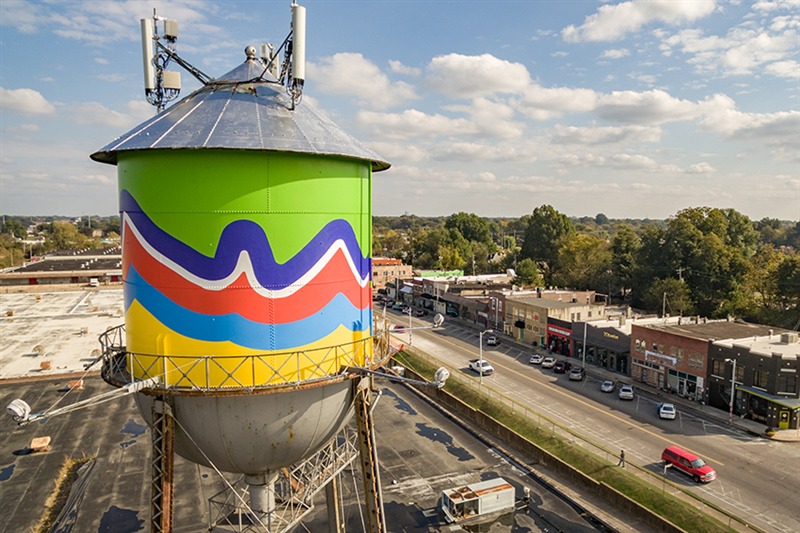 Key partners: Broad Avenue Arts District, BLDG Memphis